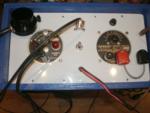 Vintage light aircraft radios repurposed
Posted By: Robert Nickels (ranickels)
In the early days of aviation radio, transmissions originated from the ground using the longwave transmitter also used for homing, and pilots acknowledged by wagging their wings. It didn't take long to realize the benefits of having transmitting capability onboard the plane as well, and the first generation of aircraft radio used the low HF band. Given today's crowded airspace it is hard to imagine every aircraft sharing the same frequency - 3105 kHz - to talk to the tower while still listening for replied on the longwave band. For light aircraft, power output seldom exceeded a few watts, which with a fairly inefficient loaded longwire antenna meant a limited range, but that was sufficient. Airlines and those flying longer distances drew power from a vibrator supply or even a dynamotor, but the most common setup used A and B batteries, just like some home radios still did, which were readily available.
I acquired this near-mint set at the Cedar Rapids hamfest last summer. The Ranger model 210 transmitter could put out 2 watts from it's battery pack power supply on either 3105 or by doubling, 6210 kHz which was the alternate frequency for daytime use. The model 117 reciever also ran from batteries and tuned the radio range band, 200 to 400 kHz to hear transmissions from the tower, weather, and homing beacons. A RAN Technology converter brings the 75 meter band down so the LF band receiver can be used as a tunable IF and a 5 watt audio amplifier provides loudspeaker volume instead of requring headphones. Instant heating 1.5 volt battery tubes are used in both transmitter and receiver, along with a boost-type DC-DC converter to produce the 150 volts B+ instead of B batteries. A previous owner had rewired the units for self-bias to eliminate the need for a C battery as originally required. The battery pack would have fit into a small box and carried onboard and replaced when necessary (hopefully before going dead during a flight!) The transmitter uses a carbon microphone and is crystal controlled on 3885 kHz, with 2 watts output. The normal airplane antenna would have been a longwire running to the tail with a loading coil resonator, but provision was made for a trailing wire antenna as well. The receiver would have had it's own low-frequency antenna for flying the radio range and receiving the tower.
I decided the pair would make a neat 75 meter AM Field Radio, and fitted them into a custom made plywood box that could be easily transported (to places like the Dayton Hamvention, for the WWII military radio net). The removable lid has a 5" speaker and a storage compartment on the rear allows storage of the mic and Li-Ion battery pack.
Listen to a bit of K5UJ calling CQ as a receiving test: Listen
The Ranger was an obscure manufacturer but big names including GE, Lear, Raytheon, Bendix, Philco, RCA, and Motorola produced similar radios. Most recognizable after WWII was the Aircraft Radio Corp., producers of the wartime "Command Sets". A portable lightplane radio like this was often used when the ferry pilots (often women) flew the warbirds from the aircraft plant to a nearby base where the command sets and other radio equipment would be installed. Having seen the RCA AVT-112/AVR-20 packaged in a wooden case for this purpose was the inspiration for making my own version.
I was fortunate to receive both manuals with my Rangers, but with a little effort the schematic and interconnections for most of these simpler aircraft radios can be figured out and it is a lot of fun to put such a cool piece of vintage radio equipment back on the air in a useful way.