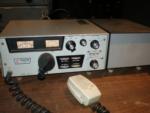 one of ham radio's one hit wonders
Posted By: Robert Nickels (ranickels)
If, like me, you enjoy flipping through old issues of 73 magazine from the 60s, you're bound to have at least seen the ads for the Transcom SBT-3 three-band SSB tranceiver. Being made in Escondido CA in the mid-60s, my guess has always been that engineers from other San Diego SSB compnanies such as Don Stoner, Les Earnshaw from Southcom, Herb Johnson, founder of Swan or Faust Gonsett may have had a hand in the design, which was quite advanced for the time. It turns out that my guess is wrong, but close - it was a native of Manitowock WI who was the driving force behind Transcom (see below).
A few of the innovative features included all solid-state operation which was a real plus for mobile operation, varactor-tuning of front-end circuits using compact edgewise pots, and only two tubes, a pair of instant-heading 8042s in the 100 watt PA. Yes, Transcom managed to implement a transistorized driver using a three-stage transistorized amplifier chain, rather than opting for the 3rd tube as SBE and the rest did. That alone speaks to having an engineer with good technical chops!
The output power in the two SBT-3s I have has never quite reached the 100 watt level but the signal is good, stable, and powerful enough to get the job done. 40 meter output is down somewhat from 80 and 20 due to the multiplication that occurs in the VFO amplifier for that band. Overall I had little difficulty in getting both on the air, however one came with a nicely built homebrew power supply that did need to be recapped. Whoever built that power supply knew a few things about compact design too!
I ran into a fellow restorer, Dale W4OP a few years ago and offered some suggestions on the SBT-3 he was working on. You can read his comments and look a a number of good pics on Dales site: http://www.parelectronics.com/vintage-transcom-sbt3.php
Dale also was able to learn a lot about the origins of Transcom as he explains:
"The owner/designer of the SBT-3 was Cal Heisinger, W9TRG of Wisconsin. Prior to Transcom, Cal worked for Lakeshore Industries of Manitowoc, Wisconsin. Lakeshore is well remembered for their early phasing type SSB transmitters and the Bandhopper VFO. He later joined Gonset Corp. as an electrical engineer. When Gonset bought a building in Los Angeles in the late 1950s, Cal moved west with them and obtained his W6MNH call. Later, Gonset bought a building in Encinitas and Cal moved to Escondido to be closer to the Gonset plant. After leaving Gonset, Cal worked for Minitron, a manufacturer of Citizens Band gear. I have been unable to locate any MiniTron radios.
Amateur radio remained his first love however, and he left Minitron to start Transcom and manufacture a small amateur transceiver- the SBT-3. The SBT-3 is a small (11.5 X 9 X 4.5") SSB only transceiver for 80, 40 and 20M bands. The rig employed some very novel circuitry including a varicap tuned front end (RCVR PEAK), a very clever VFO and mixing scheme, a solid state PA driver (3X SM4710 Ge PNP) and a pair of instant heat 6146 finals (type 8042).
At its peak, Transcom had 2 production lines running employing 10 women. While amateurs appeared to really like the SBT-3, Cal had difficulty collecting payments from his amateur dealers. As a result, he began selling directly to amateurs and also designed a commercial version of the SBT-3. One order of 200 units went to the Philippine government."
---
For those like myself who are intersted in the industrial history aspect, this makes three companies that decended from Gonset: Transcom, Swan (Herb Johnson designed the G-76 while at Gonset), and Sideband Engineers (SBE) which was started by Faust Gonett himself in 1962, a year or so after leaving the company his father started and which had been sold to Young Spring and Wire in 1958. The San Diego area was certainly a thriving hub of SSB manufacturing in the early 1960s.
While companies like Transcom were not in the amateur radio market for long, often they leave footprints that turn up elsewhere. (See my article on the origin of the Astro synthesizer in the Stoner PRO 80-10 for an example(. In the case of the Transcom I'm not sure which was the chicken and which was the egg, but that solid-state driver amplifier seems to be very similar to that used by an even rarer radio - the Hallicrafters SBT-20. While there are differences, the similarities are close enough that I'm convinced there was at least some arms-length benchmarking and "borrowing" if not a closer collaboration. Both used the same three-stage design, both used SM-series PNP germanium transistors, both used link coupling to the grid circuit of the PA tubes, and both were used to drive the same 8042 PA tube(s). I've marked up the PA section of both schematics to show the similarity which is somewhat remarkable since very few if any other radios use solid state drivers with a vacuum tube PA.
All in all the Transcom SBT-3 made it's mark on ham radio if not in the owner's checkbook and they're a fun radio to restore and use on the air. And that's just what I did on Jan. 16,2021 when I checked into the Vintage SSB Net with the SBT-3. The net audio was recorded and you can hear the Transcom by going to the website and advancing the audio player to 42;05: LISTEN HERE
We have a lot of fun on this net and welcome anyone else who loves "old vintage sideband junk" and doesn't take it too seriously to join us, Saturday mornings CST at 8:45 on 3842 +/- QRM.