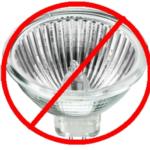 MR-16 lamps have no home in the hamshack!
Posted By: Robert Nickels (ranickels)
Halogen type MR-16 lamps are commonly used in track lights and other spot lighting applications so what would be cooler than to drop in LED replacements!
A lot, as it turns out. The LED replacements are HORRIBLE RFI emitters that totally trashed several ham bands when I unknowingly installed them.
Halogen spot lights are 12 volt devices so it's long been common practice to supply switch mode power supplies with them rather than heavy transformers. Fine, as far a it goes but those SMPS supplies are notorious RFI/EMI emitters and the once that came with my IKEA tracklights went in the garbage the first time I tried it. Having things like 12 volt transformers on hand I just ran the lamps on 12 VAC and all was well - until the "upgrade to LED".
I have to say I thought it was great to be able to buy plug-in LED replacments at an affordable price. I tried one and it worked from my AC supply and I liked the light so I bought a handful more. All seemed well until I noticed a terribly strong blanket of broadband noise that completely wiped out the 75 meter band - only the strongest signals could be heard above the solid S9 noise level. The SDR said it was at least 30-40 dB higher than normal.
The problem is the MR-16 replacement LEDs are designed to provide that convenient plug-in compatibility with existing 12 volt lighting systems. That means that however many LEDs are needed internally - connected in series and parallel to get the desired output and color - they must run from a 12 volt source. That means each MR-16 LED lamp has a little switch mode power supply inside! And they put a high amount of RF on the 12 volt line which is then re-radiated by the wiring just like a little transmitter! In fact, when multiple LEDs are used in the same lighting fixture their noise patterns combine and overlap to make the noise even worse. On the bench I measured several volts of RF superimposed on the 12 volt DC supply wires, and no combination of filter capacitors or CLC filter networks would reduce it to any kind of tolerable level. The noise was actually tunable with the supply voltage, varying from around 1.5 to 5 MHz as the supply varied from 8 to 15 volts. Some combinations of filter capacitors actually increased the noise level as if a resonance was occurring! It didn't take long to determine that the RF emissions from these LEDs would not be easily mitigated with typical measures and even so, the combined effect of multiple LEDs strung together with wires to re-radiated the conducted emissions was not predictable.
I purchased the FEIT brand and can't speak for other types, but they all probably use the same ICs and reference designs as the Maxim (below) so I'd expect the same results. I could not find a readable part number on the 10-pin SMPS controller IC in the lamp I autopsied, but again the functionality is going to be the same - a current sensing buck converter.
The spectrum analyzer plot confirms these MR-16 LEDs have no place in the ham shack! I have used LED "shop lights" which string lots of LEDs together and operate them directly from the AC main and since this type doesn't need to have the buck converter they are likely going to be much cleaner RFI-wise.