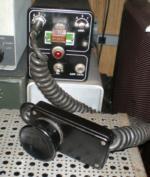 a seldom-seen cutie from the golden age
Posted By: Robert Nickels (ranickels)
I'm always intrigued by the odd and unusual ham gear that I remember seeing in catalogs as a kid but have seldom seen after hundreds of hamfests and uncountable for sale listings.
One such is the Lysco mobile transmitter which was produced by the Lysco Manufacturing Company of 1401 Clinton St. Hoboken NJ between 1949 and 1953. Despite being a very cute and compact little rig, most hams of that era built their own gear of this type, and I'd guess that sales to hams were low. Which perhaps explains the versions for CAP that used HF for regional AM nets and CAP sales could well have been sufficient to make the product successful for Lysco. The company went on to produce the models 500 and 600 which wer a much more ham-friendly rig with full bandswitching 807 rigs with built-in VFO. Like the mobile rig, the model 600 included a clamp tube modulator.
There were at least three series of mobile transmitters produced. The "A" models used three 6AQ5 miniature tubes, the "B" and "C" models used octals- three 6V6s for the B and three 12A6 in the C (for 12 volt operation). A clever copy writer stated "25 watts peak" on the product flyer, the key word of course being "peak". Actual power is more like 6-7 watts. And while 500 volts will definitely make more RF, the 6V6 has a maximum rating ot 315 volts and the other tubes are rated at 250V, so they really pushed the tubes well over their limits. But, tubes were cheap!
All that is required to put any of the Lysco mobile transmitters on the air is filament voltage and 500VDC at 125ma. Normally the HV would have come from a dynamotor which would be keyed by PTT, so the transmitter could be directly wired to the battery, and that's why there is a "FIL" switch on the front panel. An unusual feature, especially in such a small rig is a built-in antenna changeover relay. These transmitters are really tiny - just 4" by 4.5" by 6"...a very light handful.
I was excited to find one in an online auction even though I had to buy (and pay to ship) some other junk that was in the same lot to get it. Only after it arrived did I look closely enough to realize this was really an oddball amongst oddballs! The model number tag was marked "B180" which doesn't appear in any Lysco information that I've found. There was the B-175 for 75 meters, so logiclaly this was built as a CW transmitter! However it's impossible to know for sure since it had also been rather extensively modified:
A tuned circuit was added to the oscilaltor stage output
The PA tank had been modified and was found to be resonant on 40 meters (hence the need for a tuned oscillator)
The antenna changeover relay and receiver antenna connector were missing or never installed
a screwdriver adjust variable had been installed for the AMP tuning
whatever was originally in the OSC location had been replaced with a 1/4" jack (mic)
a key jack appears where the mic jack normally would be
the carbon mic transformer and dry cell battery were missing (or never installed) and a 12AU7 speech amplifier had been installed in its place
a series resistor had been added to the clamp tube output and that 6V6 was missing.
My best guess is that this was a factory built 80 meter CW transmitter (s/n 16) that someone converted back to operate AM phone but on 40 meters. The funny thing is, the clamp tube socket is riveted in place just like the other tube sockets and appears to have been completely wired, even though it wouldn't be needed for CW operation. The tank coil inductance had been reduced by smearing solder across a bunch of turns which proved impossible to completely remove so a new coil was made using NOS 32 tpi Airdux. Extraneous components were removed and a 3/16" three circut jack was substituted for the mic connector, to be compatible with my carbon mics.
The 12AU7 was installed to raise the mic output to the level to drive the clamp tube grid and after replacing a couple of electrolytics a scope check proved that it was going so. A low voltage supply showed a watt of clean output so it was time for a real test! I had an Elmac power supply on hand that was perfect for the job, with 460 volts output and the wattmeter showed 7.5 watts with good modulation. Clamp tube modulation is a form of efficiency modulation which does not add power to create positive peaks like high level plate modulation does, but by varying the efficiency of the PA tube through its screen grid, it can produce 100% modulation and it's cheap. In the original configuration it only took three tubes to put an AM phone signal on the air!
I happen to be a big fan of carbon microphones for low power AM and SSB because the frequency response curve emphasizes the midrange that is essential for intelligilbility (watch Dr. Bob Heil's many talks if you doubt that!). And it's HAM radio, not broadcasting, so who cares if the audio is "communications quality" - that's what ham radio is about!
If you see a Lysco for sale - grab it! If you don't want it, I do ;-)
The former home of Lysco that apparently once housed the factory of Economic Blower Company still stands and looks to be in fine shape, as part of "Edge Lofts", luxury residences.