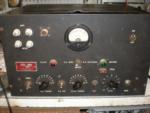 the only ham product from this famous radio/TV manufacturer
Posted By: Robert Nickels (ranickels)
Plymouth Indiana might not be famous for too many things, but John Meck Industries was the first manufacturer to start producing radios for home us in the US after World War II. He'd started the namesake company prior to the war but like most others in the radio business it was converted to wartime production, making quartz crystals among other things. Later, thousands of radios, phonographs, and even TV sets were produced in the Plymouth factory each year through 1956 under the Meck, Telvar, and Audar brand names, and the company had a long-term relationship with the E.H. Scott company, but that's another story.
Meck produced exactly one product for the amateur radio market: the T-60 transmitter, which was sold through Allied Radio in Chicago. And it was a good one!
The Meck transmitter was introduced in the era when military surplus was literally being sold by the pound and an ARC-5 type commmand set transmitter could be purchased for a few dollars. How smart was it then to come out with a factory-made transmitter for $150.00? Maybe not so great in the business sense, but Meck's design was not aimed at bargain hunters. It covered all bands from 80 thru 10 meters using plug-in coils and unlike all other transmitters in it's price class it had two built-in AC power supplies - one for the modulator and low level stages and one for the power amplifier. Both modulator and PA used a pair of 6L6s for 60 watts of RF input, and a built-in speech amplifier allowed use of crystal or dynamic microphones for higher fidelity audio than the usual carbon mic provided. Metering was included as was a built-in antenna changeover relay, making the Meck a virtually plug-and-play rig.
After obtaining my Meck transmitter I found the output was low and determined the reason had to do with the regenerative crystal oscillator. Since I wanted to use inexpensive HC-25/U type crystals I ended up modifying it for a conventional 6AG7 type oscillator like the one in the Johnson Adventurer (thanks to W9GT for this suggestion!). That provided plenty of drive without risk of damage to the crystals. The output is 20-25 watts and modulation is full and sounds good.
To make up a station that would have been appropriate for the early 50s era I went with the RME-99 which was made not far away in Peoria IL and a model 99 dynamic microphone from the Turner (mortuary and microphone) company in Cedar Rapids Iowa. As a sign of the times, all three were manufactured within 200 miles of my present QTH - the US midwest was home to many radio and electronics manufacturing companies. The RME-99 uses the "new" loctal tubes and with it's matching speaker produces nice AM audio and is stable enough to tune SSB and CW.
There's a lot more history about Meck Industries available to members of the Meckers group: https://groups.io/g/Meckers
One final note: my interest in Meck was stimulated by the late Bill Ross W9WR (SK) who had one, and urged me to find one as it was a cut above the average transmitter of it's time. The photo shows Bill on the right, along with Antique Radio Club of Illinois buddies Harry Blesy N9CQX (left), Bob Drake KB9NJP, and Ron Grams WB9IMR with Margaret Blesy KC9UUR and Carol Drake KB9OYR in front. Ron had helped Bill restore his Meck transmitter and is now in posession of it, and Harry also has one and started the Meckers group. Thanks for the tip on Meck, Bill, you were right!