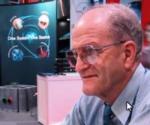 thanks to ZL2AMJ
Posted By: Robert Nickels (ranickels)
Equipment manuals and handbooks of the 1950s and 60s were filled with complex oscilloscope screens and discussion of ripple and as a result proper alignment of a phasing rig eluded most hams. But a clever New Zealand ham, Fred Johnson ZL2AMJ was able to see what everyone else had missed, and published a short note in the NZ ham magazine in 1972 that makes the process simple and requires only a sine wave audio generator and a simple output detector:
The principle is simple. We all know that feeding a single audio tone into a properly aligned SSB transmitter will produce an unmodulated carrier output (this is how most filter rigs produce CW). This is the desired outcome.
An improperly aligned phasing rig will have both carrier and opposite sideband imbalance. If we inject a 1 kHz audio tone and the carrier is not balanced, the result will be AM - a carrier with a sideband separated by 1 kHz on either side. The output detector that is attached to the transmitter is nothing more than a crystal radio or field strength meter that will demodulate this signal to allow a 1 kHz tone to be heard in the headphones (or amplified speaker as I prefer), no different than an AM transmitter will do. Step one is to adjust the carrier null controls to elminate the 1 kHz tone. This takes less time than it does to type this sentence!
With the carrier nulled there will now only be a 2kHz tone audible. This is the result of the desired sideband beating against the undesired sideband, which are 2 Khz apart with a 1 kHz tone. Now the Audio and RF phasing controls can be adjusted to null the 2 kHz tone. Switching between USB and LSB is necessary to reach the best compromise.
Thats's it! Two simple nulling adjustments, no oscilloscope or even a VOM needed. And if you don't trust your hearing or wish to have a visual indication, just download one of the free audio spectrum analyzer apps for your smartphone or PC and it will display the 1 and 2 kHz signal peaks in real time.
ZL2AMJ is known by many as the inventor of the "Tucker Tin Two", a minimalist SSB transmitter using just two tubes, and was a leader in NZ amateur licensing for many years. He became a Silent Key in 2015 but in a previous email exchange I asked him how he came up with this clever method that no one else ever had suggested. His reply was "it just seemed obvious to me". And so it is!