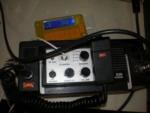 10 watt portable SSB lunchbox
Posted By: Robert Nickels (ranickels)
In the days before sat phones, HF SSB was the only practical means of communication once you went beyond line-of-sight distance from civilization. Forestry crews, scientific exploration teams, mariners, and oil and gas or pipeline workers were among those for home HF SSB was a lifeline. Portable transceivers like the JRC JSB-20 were used when moving from one location to another as they were lightweight, battery-powered, and could provide effective communications using simple antennas like a dipole thrown into a tree or even a base-loaded whip that was resonated to the frequency of interest with a couple of counterpoise wires. It's easy to appreciate the peace of mind the radio operator had to feel after making his daily check-in with the base station hundreds of miles away on this little lunchbox portable radio. The fact that it was crystal controlled made it easy for non-technical operators to use on up to 4 pre-configured frequency channels.
JRC sold the JSB-20 as a USB-only radio since outside the ham world, all mil and commericial SSB users operated on USB only regardless of frequency. However the synthesizer make it possible to have selectable USB/LSB which is obviously a requirement for normal ham use. However I do use USB on nets like the MMRCG Saturday morning net on 7296 which is conducted in USB mode because of this restriction in some mil/commercial radios.
The internal construction quality is very high as can be seen, yet the two main boards and front panel can be separated easily for repairs or re-crystalling. An innovative feature is the use of varactor tuning diodes for each tuned circuit so alignment is accomplished by adjusting a single trimpot that applies the needed voltage to peak the signal for each frequency. These tuned circuits are broad enough that it's possible to QSY within a band but also makes the JSB-20 receiver more susceptible to overload and intermod when many strong signals are present. I've found this to be an issue on 40 meters at night when the 41 meter SWBC stations are blasting in, but it would be much less of a problem using a whip or less efficient antenna in the original application. Waiting for different propagation or trying an alternate frequency would have been the protocol in the field.
Alan Barrow KM4BA has been responsible for creating the JSB-20 group and for making the complete package of technical information possible, without which I would not have been able to do the modifications and enjoy using my JSB-20, so a big thank you, Alan!