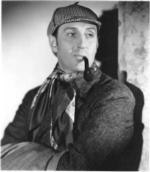 "When you have eliminated all which is impossible, then whatever remains, however improbable, must be the truth."
Posted By: Robert Nickels (ranickels)
A Heathkit HW-12 gave me a troubleshooting challenge the likes of which I've not seen before - or even heard of!
A few days ago the transmitter wouldn't produce output, and in checking voltages and I measured -75 volts on the ALC line which should be -20. But it corrected itself and I figured it must have been a solder splash or something that cleared by itself. That theory lasted until the voltage returned and wouldn't go away - so I had to get serious about fixing this weird problem.
After several hours of going in circles I'd reached the point where I'd stare at the schematic trying to rationalize what magic was at work. It made no sense because the source of the voltage I was measuring was a voltage divider that came thru the bias pot where all the resistors had the correct resistance, yet the voltage on the ALC line was three times what it should be. I've highlighted the circuit in question in yellow on the schematic below.
The resistors all measured within tolerance, I even checked the caps and diode for leakage but they were all fine. Yet the phantom voltage persisted!
Finally I was tired of it all and went into what I call "TV repairman mode". No longer caring about theory, thinking it out, etc - I just wanted the thing fixed! So I pulled one end of each component attached to that circuit board trace loose ( R79, R78, C74, and one more that's off this page). This left nothing connected to the PC board trace at all, yet with power off I measured 15K ohms to an adjacent trace! I got out my isopropyl alcohol and scrubbed and cleaned the flux residue, ran my knife blade between the traces to remove whatever resistive material I couldn't see. And due to a late-night measurement error I thought I'd fixed the problem, so I soldered everything back, but the -75 volts was still present! At this point I did the only smart thing and went to bed!
The next morning's plan was based on the famous Sherlock Homes quote: "When you have eliminated all which is impossible, then whatever remains, however improbable, must be the truth." I've been designing and using PC boards for over 40 years but despite never having seen one develop this kind of conductivity between traces, the only conclusion is that was happening. To prove it, I again disconnected all components from the trace in question and with power applied I measured more than -75 volts on the bare PCB trace with nothing connected to it! The adjacent traces on either side also carry bias voltage, and one or both of them are obviously the source of the phantom voltage via leakage through the PC board material. Like many consumer products at the time, Heathkit did not use glass-epoxy laminate (like G-10 or FR-4) for their PC boards, but rather the brown-colored reinforced phenolic material (typically grade XXXP). An industry source provides this information about this material:
"These grades are composed of a paper base impregnated with a phenolic resin binder. Phenolics are the oldest, best-known general purpose thermoset resins. They are among the lowest cost and easiest to process. Phenolics are quite adequate for a fair percentage of electrical applications. Generally speaking, they are not equivalent to epoxies in resistance to moisture, humidity, dimensional stability, shrinkage and retention of electrical properties in extreme environments."
For future reference, I've noted the components and circuit board trace on this marked-up drawing:
My conclusion is that this particular HW-12 may have been exposed to conditions that caused the weaknesses of XXXP material to become a factor. Also, if you examine this circuit, it is a high impedance (>1M) circuit that controls the bias of the transmit IF amplifier, so there is nothing to bleed off the phantom voltage that is leaking through the PC board (which now typically is measured to be around 100K between this trace and the adjacent ones).
The solution was to hardwire these connections without using the PC board trace, and now the voltages are normal and the radio works as it should. The bottom line? Once you know the answer, it's elementary, my dear Holmes!