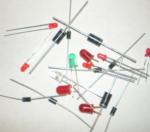 Modern-day solutions for RF part obsolescence
Posted By: Robert Nickels (ranickels)
As anyone who likes building radios knows, it's getting harder and harder to buy RF components. One of the last casualties was the 3-section pi-wound RF chokes made by Hammond, a company that has done more than most to support the vintage radio and audio hobbies. The Toko variable inductors long favored by QRP enthuisiasts have become all but unavailable, and variable capacitors are expensive, scarce, and only a few values are still being made. Collins shut down it's mechanical filter business about the same time International Crystal closed it's doors, and more modern components such as ceramic resonators and filters are rapidly being discontinued by companies such as Murata. And while you can still buy some popular parts such as varicap tuning diodes and J-310 MOSFETs in SMT packages, thru-hole packages have become obsolete.
So what's the homebrewer to do? Of course it's always possible to scrounge up the parts needed to build a one-off homebrew project for yourself, but not everyone has a deep junk box or the ability to find vintage parts. That's why my designs are always based on parts that can be purchased new or at least are reasonably available from present-day sources. To do so often means innovating alternatives to vintage parts or applying new technology to do what used to be done in different ways.
Tuned circuits for receivers and low-powered oscillators and amplifiers are a good example. While inexpensive trimmer capacitors can be found, slug-tuned inductors and transformers aren't being made anymore except for low-voltage rated types for solid state circuits. Only a very limited selection of air variable capacitors can be found outside of junkboxes, surplus, and hamfests. Varicap tuning diodes are a good alternative for tuned circuits, but currently stocked parts are in the low picofarad range and only available in surface-mount packages.
Regular power diodes like the 1N4007 and 1N5408 can be used effectively as varicap or tuning diodes, taking advantage of the inherent voltage-dependent capacitance property of a back-biased PN junction. Applying a DC voltage causes the thickness of the depletion zone to increase, increasing the capacitance proportionally. Unlike varicap diodes that are sold for this purpose, the base capacitance and amount of capacitance change that is possible are not specified by the manufacturer, so these are not precision devices, but homebrewers can compensate for the minor part to part variations that exist.
I recently characterized a dozen each 1N5408 and 1N4007 diodes to get a sense for how consistent their properties are. Rather than measuring capacitance directly which is somewhat error-prone, I put each diode into a Colpitts oscillator circuit and measured the resulting frequency at 0.5 volt increments from 0 to 5 volts DC. The resulting data can be seen below. (A 10uH inductor and some additional parallel capacitance was present in the test fixture).
Since I had two different lots of 1N4007s from different suppliers I tested both lots to see how closely they track. While it is obvious that the part to part variation is not what would be expected from a precision device, both of these common rectifier diodes provide a useful tuning range and both are so widely used it is likely they will be available for a long time to come.
Lastly, since I'd read about using LEDs as tuning diodes I compared a variety of types against the two rectifier diodes. While some do work fairly well, I also tested a few "short lead" T1 LEDs from a recent purchase and found that they produced no capacitance change at all! For this reason I decided to stick with the rectifier diodes, but LEDs and other diode types may be worth evaluating further.