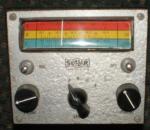 a literal "handful" of radio!
Posted By: Robert Nickels (ranickels)

The Sonar Radio Corp. of Brooklyn NY is a well-known manufacturer of Ham, CB, and Marine Band radios over a period of several decades, and it's products were always well engineered and of good quality. But despite several attempts, it's ham radio products never really managed to excite hams enough to plunk down their hard-earned cash. The SRT series of transmitters in the late 40s were just another offering in the crowded post-war field when many hams turned to cheap surplus gear to get on the air. Sonar also placed an unsuccessful bet on narrow-band FM in a couple of their exciters. Later the company would try again with mono and multi-band SSB transceivers that evidently were even less popular, judging by their scarcity today.
But in the early 50s, Sonar produced a cool little mobile receiver that by all rights should have been a big hit - but wasn't. The MR-3 is a literal handful of a receiver, packing a three-band superhet into a cube less than six inches on a side! To accommodate the compact size, coverage was limited to four of the most popular bands for mobile operation: 10-11, 20, and 75 meters. All that was required is an antenna, speaker, 6 volts for the filaments and 2-300 volts B+ which could easily come from a vibrator supply. A later version swapped the 10-11 meter band for 40 meters, which may have been due to the performance of a single-conversion receiver on the higher frequency.
There are 8 tubes including two IF stages, a 6AQ5 audio stage and a voltage regulator to stabilize the tuning. ANL and BFO switches were provided on the front panel but no BFO adjustment. I had to increase the BFO injection level but the tuning mechanism is stable enough to demodulate SSB and CW signals on 75 meters, even though the IF bandwidth is way too wide for usable reception (at least 10 kHz). But that makes for nice sounding AM on an uncrowded band which is where I'll be using it on the various AM nets.
I have two MR-3s but as the photos show, one has been modified extensively. I wasn't aware how extensive when I bought it on eBay but upon inspection it became clear that someone had gone to a lot of effort to convert what was a so-so 3-band receiver into a pretty good dual-conversion 10-11 meter receiver. I suspect the original performance was pretty poor, so if 10-11 meters was of primary interest, this mod makes some sense.
The bandswitch and associated tuning coils for the other bands was removed entirely and a new chassis plate was installed to allow for new components and wiring. The ANL and BFO were removed and the 12AT7 tube that was originally the BFO and RF Amp became the new first converter which produced an output around 11 MHz. The original oscillator was retuned to this frequency, and the 500 KHz IF was retuned to 455 for some reason, The result is a stable receiver fo 10-11 meters, that's not what I wanted!
I found another MR-3 on an online auction and it proved to be unmodified and in good condition, but missing a couple of tubes and non-working. I was able to obtain a copy of the manual from Surplus Sales of Nebraska which helped get it going. Even though the circuit isn't complicated, the small space meant components were layered in so densely that the schematic really helped figure out what was what.
Performance isn't great but it's certainly good enough for casual use, and 5uV sensitivity is adequate to hear every station that is likely to hear a low powered mobile signal. Audio quality is good with a decent sized speaker and good bandspread is provided, although separating AM and SSB signals requires human assistance due to the wide bandpass of the IF. With only two tuned circuits it's about as selective as the typical small AM BC radio, which is still 'good enough" for the intended use.
So why didn't the MR-3 sell better than it apparently did? At $90 in 1952-3 it was expensive for one thing. The mobile bug hadn't yet bitten most hams, but when it did the Gonset converters which could be purchased for half the price and easily wired up to take advantage of an existing car radio became the most popular choice. Homebrewing a simple converter was well within the skills of a typical ham back then as well, and $90 was serious money in 1953 when the average US worker brought home $3,200 a year.
Sonar's MR-3 sales also had to be hurt by the lack of a companion transmitter. Which is odd, considering that the company had experience with transmitters and the MR-3 was one of their first receiver designs. Clearly when Multi Elmac came out with it's mobile pair - the A-54 and PMR-6 a few years later they quickly became the industry leader, along with Gonset and later, with competition from Morrow which didn't make much of an impact, and Heathkit, which did. About the time AM mobile operation in the US peaked in the late 50s, citizens band radio also became an option and Sonar was one of the early companies to provide CB radio equipment. That time their instinct was correct as Sonar became a leading manufacturer of class D CB radios for most of the next decade. The company also expanded into business and VHF radios including DF receivers and pocket-size VHF monitor radios into the 1970s.
And those mono-band ham transceivers! If you know of one for sale, please let me know...