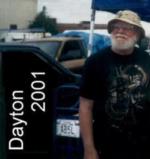 Founder and humble scribe for the Five Meter Liberation Army!
Posted By: Robert Nickels (ranickels)
Michael Hopkins AB5L is fondly remembered by early denizens of the internet and specifically the "Boatanchors at the Porch" mail reflector. A truly unique individual, Michael made the internet a happier place through his eclectic interests (ranging from Tecraft converters to ferrets) and his wonderful imagination and storytelling ability.
Through his writing, we learned of the late 20th century exploits of radio pioneer Frank Jones, who not lives (with one foot firmly planted in the past and maintains his iconoclastic ways - but is on a mission to reclaim the Five Meter Ham Band through his ragtag band of associates (aided by a few radio icons) known as the Five Meter Liberation Army or FMLA. Every few weeks or months we'd be treated to a new episode in this epic struggle, which fortunately has been preserved intact for all to read. But first, here is Michael's own "Rearward" to set the stage:
A man of the '30s awakens one night in the '90s (episode 13) with a new mission: recapture 56-60 mc. He forms a Five
Meter Liberation Army from his mobile home in a Barrio trailer park run by Tom Joad of Steinback's Grapes of Wrath
(episode 9), and soon draws a decidedly uncolorful bodyguard (episode 7). A six foot tall half Mexican stockbroker named
for Ayn Rand makes him rich and a demonic white ferret and a half-siamese cat become his familiars. (episodes 10 and 9).
The leader of all this, called only "Frank," settles down in the narrator's basement to be joined by Maj. Armstrong (episode
8), Hiram Maxim (episode 23) and one-time pals Carl and Jerry from the 1950s Popular Electronics (episode 25). His huge
1940s sedan, with contemporary plates, is immune from police (episode 13 et seq) and his breadboarded electronic creations
recall those distant days when a ham built his own rig and could "fix a radio." Of course all this is crazy. No one builds
anything anymore and the other things Frank stands for, like self- reliance, tolerance and a generally Boy Scout viewpoint
are simply out of step. Frank knows that too (episode 20), but he does not care. If you're standing in the middle of the road
and see a big brown Frazer coming at you, you better jump - one way or the other.

---
Scroll down past the photos for a link to download the "Frank and the FMLA" in pdf form.
Sadly, Michael's key went silent in 2005.
Thank you Michael. And thanks to Marty Reeves for the photos to remember you by and for keeping the AB5L callsign on the air.
If anyone has AB5L or FMLA information they'd like to share I'd be happy to add it to this page.
73, Bob W9RAN