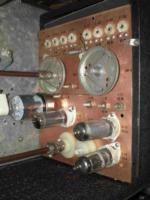 where's the copper subchassis from?
Posted By: Robert Nickels (ranickels)
I didn't set out to buy this homebrew CW transmitter, it was included in an auction lot that I wanted so I had to take it to get the desired item. But even though I always like to see good quality homebrew gear, this one is just a mystery.
Most of the transmitter, including 6CL6 oscillator and buffer stages and a 6146 PA are built on a sub-chassis that is clearly part of a commercial transmitter - but which one? The markings for the coils and trimmer caps clearly designate ham bands, including 10 meters even though that band is not marked on the front panel. The power supply and PA tank are mounted to the main chassis but the copper subchassis has two controls for bandswitch and peaking. I haven't tried to trace out the circuit but the presence of a selenium rectifier suggests that grid-block keying is provided.
Who made the copper subchassis? What transmitter is it for? Since the 6146 is labeled V21 it had to be a big one!