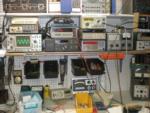 Making my work area suit me rather than vice versa
Posted By: Robert Nickels (ranickels)
Like most of those reading this, I've upgraded and added to my test equipment inventory over the years, starting with the Heathkit VTVM I built when I was 15 or so. There's no "right" piece of equipment, just personal preferences, and while I'd be the first to say my work habits are anything but "right" they are what they are, and I'm old enough to realize that my workbench layout will have to conform to my preferences, rather than the other way round.
I recently decided to make some changes to my "B" bench, which either stands for "boatanchor" or because it's the second-best equipped. My primary bench is used mostly for design and building and SMT assembly and it's undergoing some changes too, but the "B" bench is where a newly acquired piece of gear is most apt to land for an initial check-out and where restoration of most gear will take place.
It's an 8 ft. wide stand-up (my preference) bench where the needed variac and power related stuff occupies the right hand end area. I'd had peg hooks for tools but found I was very poor at actually putting things back, so I decided to try the four plastic bins instead. Tools are organized loosely from the most frequency used in the left-most bin. A Weller soldering station is to the left (I'm a southpaw) and the Haako desolder and 150 watt gun are underneath. I do not like having to look "up" to see a meter, so I'm anxious to try the Fluke 37 which I recently acquired which is front-and-center on the bench and will be nicer to read and use than a handheld. The very good HP 3466A DMM is atop my bench receiver, the Heathkit SW-7800 when morr precision is needed. The SW-7800 is not Heathkit's best effort but works well in this role because it has digital readout, an attenuator, and USB/LSB/AM/Wide AM modes. It's used only for audio monitoring of whatever RF emitter I may be working on at any time. There's also a B&K "Flip-o-Matic" VTVM, mainly because I think it's cool.
There is just nothing better than an analog scope for looking at analog signas, IMHO. The Tek 475 is a mil-spec upgrade of the basic 250 MHz scope and replaces a Tek DSO which I'll get more use out of as a portable. Other gear:

B&K Function Generator. I like that it has enough output to test speakers yet is very simple to use.
To the right of the Heathkit, top to bottom: Elenco signal generator/counter I'll bring over a signal from my main HP sig gen for alignments, etc but it's nice to have an RF source with a knob handy. Boonton 8210 Modulation Analyzer. This is a new addition and since I work on AM transmitters a lot it will see some use. Racal-Dana 1992 universal counter timer. I've needed a better counter and this 1.3 GHz counter fills the bill nicely.
Next: HP-410C I don't need a VTVM often but this is the industry standard and the RF probe also covers the range I'm interested in. The Waters dummy-load wattmeter has switchable ranges from 10 to 1000 watts. For more accurate measurement I'll use the scope for low power or a Bird.
Those with sharp eyes will note the Supreme "Audolyzer" on the top shelf. This instrument from the late 1930s is very handy when repairing AM radios because it can act as a tunable RF voltmeter to check RF and IF stages and as a signal tracer. It was scrounged from a dumpster at a hamfest because no one knew or appreciated what it was. The box with the red chicken-head knobs on top is a speaker substitute box known as a " Coastwise Ferret 721". Panel jacks allow selection of voice coil or it's built-in transformer - these were popular items in the day when a serviceman would bring the chassis of a radio into the shop for repair but would leave the heavy cabinet containing the speaker and its transformer in the customers home.
Lastly there's a B&K transistor tester, an HP DC power supply, a Fluke DMM and a big honkin' semi-regulated Motorola DC power supply that is basically a battery substitute for mobile radios. I don't use it often but it's nice because it has a variac to make up for voltage drop.
Every shop and every person's needs are different, and I have a bunch of other gear I'll bring in when needed but this set pretty much does what I need for boatanchor tube and solid-state repair and restoration. My FT-817 is often used as a low-power signal source and as a receiver, very handy piece of test equipment when not being used on the air. The same is true for a simple RTL-SDR but that will be another story!