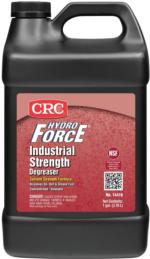 CRC Hydrorforce Industrial Degreaser
Posted By: Robert Nickels (ranickels)
I have no interest or affiliation with the company and discovered this product when I was looking for a good degreaser to clean my jukebox. IT IS THE BEST!
I like data, so I put confidence in the test results that can be viewed in the infographic below.
I also like RESULTS and this stuff delivers. Greasy dirt and grime are instantly dissolved and wipe away. You can see the results from the right vs. left side of the bottom of my 20V-2 Collins transmitter cleaning.
It's about $30 a gallon and you want to use it full strength, but it works so well with just a squirt bottle application a gallon will last for years.
TRY IT! You won't be disappointed.